It has been a couple of weeks since I've walked down Redwood City's so-called "Theatre Way" (technically, Theatre Way is just a block or two of Middlefield Road), but last night my wife and I went to the Fox Theatre to hear Dave Barry speak as part of their speaker series, and because we parked in the "Box" building garage we walked down Theatre Way to get to the front of the theater. In doing so, I noticed a couple of changes.
Although Arya Steakhouse has announced plans to move to Palo Alto, they aren't closing their Redwood City location until July. Thus, so far no changes there.
Just down a bit from Arya Steakhouse, though, longtime Theatre Way tenant Portobello Grill has closed: their last day of operation was this past Sunday, April 24. Portobello Grill was owned by the same folks that own Franklin Street Caffe in Sequoia Station, though; a sign in Portobello Grill's window suggests that patrons head over there instead. Franklin Street's menu does seem to include some items I remember from Portobello Grill, along with quite a few that Portobello Grill didn't offer (including breakfast).
Continuing down towards Broadway, Happy Lemon has opened in the spot formerly occupied by Yoppi Yogurt. I briefly poked my head inside and tried to get a sense of what kind of business this is based on a glance at their menu, but to me it all appeared to be a bit of a mishmash. Fortunately, spending some time on their website helped quite a bit (although their website has typos that indicate that it may have been created by a non-English speaker; you have to read between the lines in some places). First off, the parent company appears to have originated in Taiwan back in 1991; they apparently introduced "Taiwanese bubble tea culture to Mainland China and Hong Kong." Their big push into the United States seems to have occurred in 2014, and they've been growing ever since. They now have 36 locations (Redwood City's being #36) in Northern California alone; Happy Lemon franchises can also be found in Southern California, Oregon, Washington, Nevada, Colorado, Texas, Kansas, Illinois, New York, and Massachusetts (with an Arizona location coming soon).
As for what they serve, primarily they sell drinks. Boba, Taro, or regular milk teas; lemon teas; smoothies; teas with salted cheese (yes, you read that right); and bubble waffles. The website indicates that not all stores sell all items, so ours may or may not have the full complement. However, if any of this intrigues you, do stop by and check out their offerings.
Nearby, although not on Theatre Way, Red Giant Coffee (formerly Bliss Coffee) has closed (their last day was Friday, April 15). Coming to their space on Broadway (at Winslow Street) is a new dessert/drink seller called Tong Sui. Tong Sui, which according to Wikipedia literally means "sugar water," appears to be a Cantonese term for "any sweet, warm soup or custard served as a dessert at the end of a meal." Our Tong Sui, however, will specialize in coconut desserts and drinks (coffee included, apparently, if the goodbye note from Red Giant Coffee is to be believed). There currently are places with this same name in San Mateo and in Sunnyvale, so this may be a third location — or this may be an altogether different place using the same name. The little logo on the banner posted above the Redwood City location's doors (shown above) doesn't match what I'm seeing for the other stores, but I note that the menus for those other stores are full of coconut desserts. Thus, there seems to be a good chance that ours is indeed an extension of those other shops. Regardless, we should find out pretty soon.
I took a long walk on Tuesday this week to check out the usual suspects in Redwood City development. Although I took a lot of pictures, they mostly just show steady progress on projects I've been reporting on for weeks now. I then took another walk on Wednesday with a singular purpose: to attend the "project unveiling" for the Taube Family Carriage House & Automobile Museum. Thanks to a last-minute "surprise" donation, the folks behind this project are just $1 million shy of their $13.5 million goal. Once that goal is reached, the ground breaking should occur — which they estimate should take place by the third quarter of this year, if not sooner. Wednesday's particular get-together consisted of many of those who have chipped in towards that $13.5 million so far, along with a couple of members of the press and some representatives from the county. Tad Taube, representing the family for whom the museum is being named (thanks to a $6 million donation) spoke, as did Ben Kopf, president at Towne Ford and Hopkins Acura, and others from the county and from the San Mateo County Historical Association.
The get-together took place on the site where the new museum will be built: the small parking lot along Marshall Street behind the San Mateo County History Museum. The new museum, which will stand next to the Lathrop House, will occupy nearly all of the available space, although there will be a 1,200 square foot ground-floor courtyard between the two buildings.
The new museum building itself will appear to be three stories tall: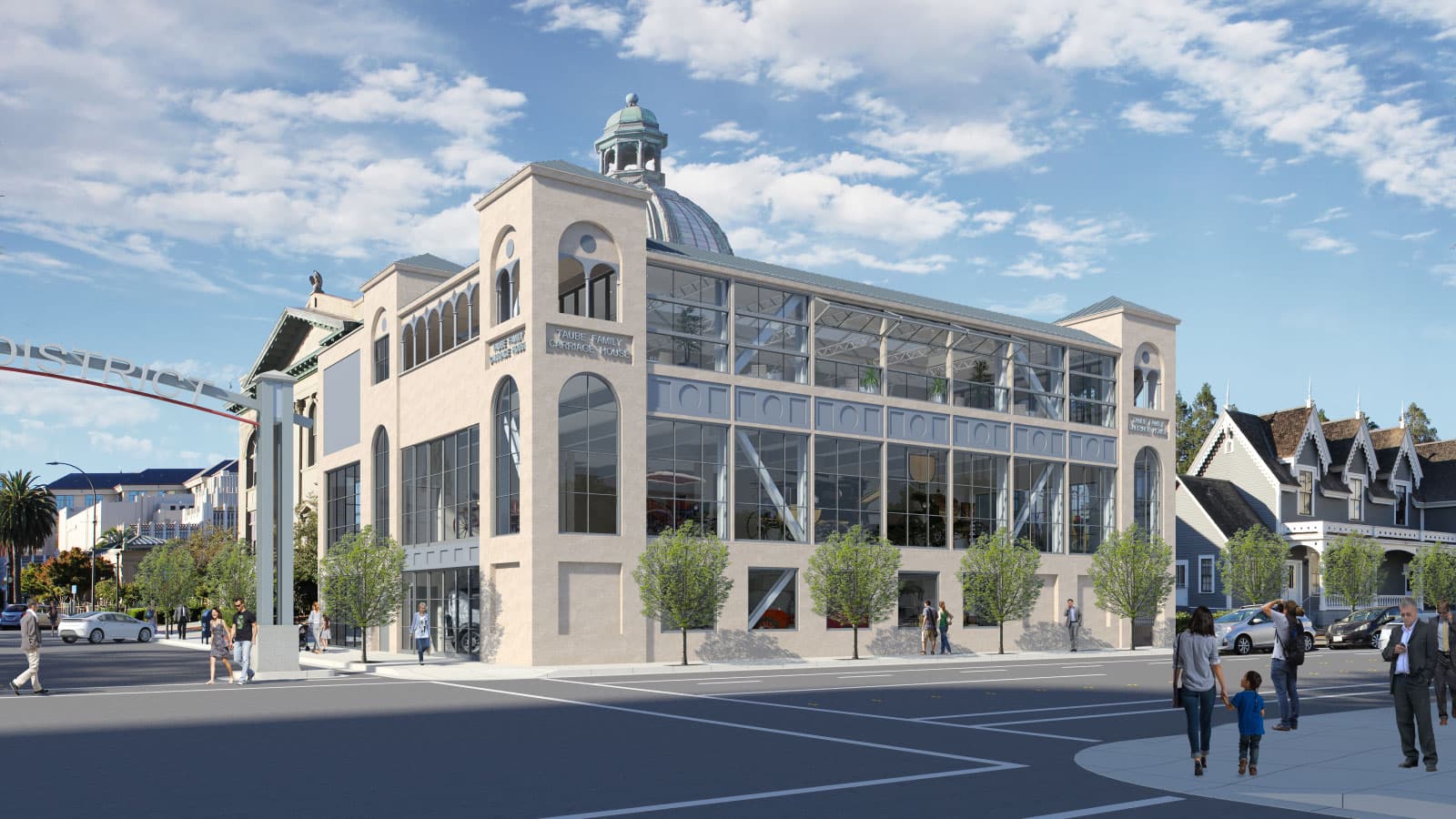 [rendering thanks to the San Mateo County Historical Association]
That top floor, however, will actually be a large rooftop terrace that can accommodate large gatherings: it will be available for rent, and will also be used for Museum functions. As for the building's other two floors, the second floor will be the Carriage Gallery, which will host a number of horse-drawn carriages owned by the county (currently in climate-controlled storage). The first floor will be devoted to "diverse, rotating exhibits from community enthusiasts sharing their vehicle collections, including carriages and classic automobiles." One of the vehicles that apparently will be there was present at Wednesday's get-together: a 1926 Model T, owned by the Kopf family.
This new building should be a nice companion to the existing History Museum (in the old county courthouse, the dome of which you can see looming over the new museum in the above rendering) and the Lathrop house, which you can see to the right of the new museum in the rendering. The classic styles represented by all three buildings will make for an interesting contrast with the five-story wooden "County Office Building #3" (COB-3) actively under construction just across Marshall Street. Of all the pictures I took that morning, my favorite came about when the sign for the new museum was about to be unveiled: a number of workers on the COB-3 project, who up until that point had been contributing to the din that made it difficult to hear a number of the speakers, paused to see what we were all up to:
You'll probably not be surprised to hear that the work being done on the COB-3 building was quite a distraction for me; while I paid careful attention to all of the morning's speakers, I did keep an eye on what was going on across the way. Primarily, the crews were installing more of the concrete panels that will serve as the outer skin for a portion of the building's ground floor. In particular, though, I had to watch them install the one panel that was deeply engraved with the new office building's address:
Back to the museum, though, I look forward to its groundbreaking. Don't be surprised to see some work on the site taking place even sooner: one of the speakers indicated that the association already has permits in hand to relocate some PG&E infrastructure that lies beneath the project site, as well as relocate the History Museum's trash enclosure, which apparently is in the way of the new museum.
That'll do it for this week's post, although I want to throw in yet another reminder to take the city's brief Residential Recycled Water Fill Station Program Survey. As reader Bob noted in response to last week's post, which also mentioned this survey, the challenge for those of us who would like some recycled water but don't live in a downtown building that'll eventually get hooked directly up to the city's supply of the stuff, is how to transport it. I have my own method (see my post To Fetch a Pail of Water for more on that), but I've seen people use a wide variety of sealable containers, including IBC Tote tanks (which are large and admittedly need to be transported by truck):
I've seen people driving SUVs bring other, smaller containers that apparently work just fine. Anyway, if you have any interest at all in possibly obtaining recycled water, please take the no-obligation survey to let the city know that in this time of drought — according to the US Drought Monitor San Mateo County is in "Severe Drought" at the moment — we want to have access to a supply of water for our landscaping that doesn't draw on our drinkable water supply. Oh, and if you have any creative ideas for transporting recycled water, by all means submit a comment and let us know what they are!